To travel within Dublin City, you can use public transport. There are 3 parts to this system: buses, trains and trams.
Buses
Dublin Bus provides bus services for the city and county of Dublin and adjoining areas. Many other private bus companies also offer transport in and out of the city.
Bus Eireann – buses between major Irish towns and cities
Trains
A frequent train service called DART runs along the coast of Dublin, from Malahide and Howth in north Dublin to to Greystones in the south.
Other train services from Irish Rail connect Dublin city with major Irish towns and cities
Trams
A frequent tram service called LUAS connects Dublin city centre with suburbs in the south and south-west of the city.
Dublin commuters can now avail of a new integrated public transport ticketing system, with the launch of the new Leap Card.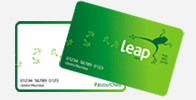 A Leap Card is a reusable plastic smart card that can be used instead of paper tickets to pay-as-you-go for transport in Dublin. Time based tickets (e.g. a weekly or monthly ticket) will be made available on Leap Cards in the near future.
 It saves you money
You pay less with a Leap card than when you pay for single fares with cash, so you'll save yourself money.
 It's flexible 
You can jump on Dublin Bus, Luas, DART and commuter rail services around Dublin when it suits you, without having to plan your journey or buy a specific ticket in advance.
 It's convenient 
No more rooting around your pockets for the right change. Just pay the appropriate fare with the Travel Credit on your Leap Card!
 It's quicker 
No more queuing at ticket machines for single tickets on Luas, DART and commuter rail. With the Leap Card you just Top-Up with Travel Credit and go whenever you like.
 It's safe 
You can register your Leap Card on-line, so if it's lost or stolen, no one else can use it. Once you register, you can also see your card history and buy Travel Credit on-line.