Leap Visitor Card: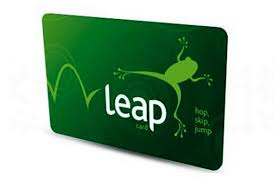 We recommend that you purchase the "Leap Visitor Card", designed specifically for tourists to Dublin.  The  Leap Visitor Card can only be purchased at Dublin Airport OR Dublin Bus Office on 59 O'Connell Street ( open Monday 08.30hrs –  17.30hrs,  Saturday 09.00hrs – 14.00hrs.  Sunday /  Bank Holiday: closed ).  The Leap Visitor Card is ideal for students staying for short periods (1-12 weeks)
The Leap Visitor Card allows unlimited journeys for the period you have selected on all Dublin Bus scheduled services (including Xpresso and Nitelink), Airlink airport bus services, All Luas (tram) services, DART and Commuter Rail Zone ( all of Dublin city and county ).
Buses run from 07.00 to 23.30hrs each day, with a reduced service on Sundays.   The DART train is the suburban railway line.   It operates from two points in the north suburbs ( Howth or Malahide), through the City Centre out to the south suburbs.  The DART station at Pearse Street is just ten minute walk from Horner School of English.
Leap Visitor  Card prices 2019 as follows:
1 week: EUR 40
2 week: EUR 75
3 week: EUR 100
4 week: EUR 125
Student Travel Card:
If you are registered with Horner School for more than 12 weeks you can apply for a Leap Student Travel Card.  You can apply for the Leap Student Card using your mobile. Note: you will still have to attend in person at the Leap Card Agent (Trinity College), but by applying online the process is quicker and easier, and you can take your own photo in advance too.
To apply simply:
Hit the APPLY NOW Link  to take/upload your own photo and fill in your details.
Keep a record of your Order number. This will be emailed to you too.
Take your order number to the Trinity College, Students Union House (Opening hours, Mon – Fri: 9.30 – 5pm. Sat 11am – 1.30pm)
Trinity College will take payment of €10 and print your card on the spot.
Please note: You must bring proof of ID and a letter from Horner School, to the Trinity College Student Office, to prove that you are registered for more than 12 weeks.  A stamped letter on Horner School headed paper will be required to prove that you are correctly registered at Horner School of English.  Please request this document from the Horner Student Office after arrival.
DUBLIN BIKES
Dublinbikes stations are located throughout the city centre to enable easy access and optimal use.  Located in close proximity to each other, every station has a minimum of 15 stands, making it easy to enjoy the service.
There is a bike station just 2 minute walk from the Horner School of English.  Click here to see map.